Company:
Weather Underground
Roles: 
UX/UI Design Lead
Project Type: 
Collaborative
Brand
In 2014 we rebranded Weather Underground, the world's first weather website started in 1993, and a company with two decades of brand equity. In order to implement a successful rebrand, I made sure that all of the elements were informed by the products about which WU's user base was so passionate. We also explored this rebrand to gain new customer awareness and build trust. Our site and brand looked old and out of date, and as a result was not trusted by new users.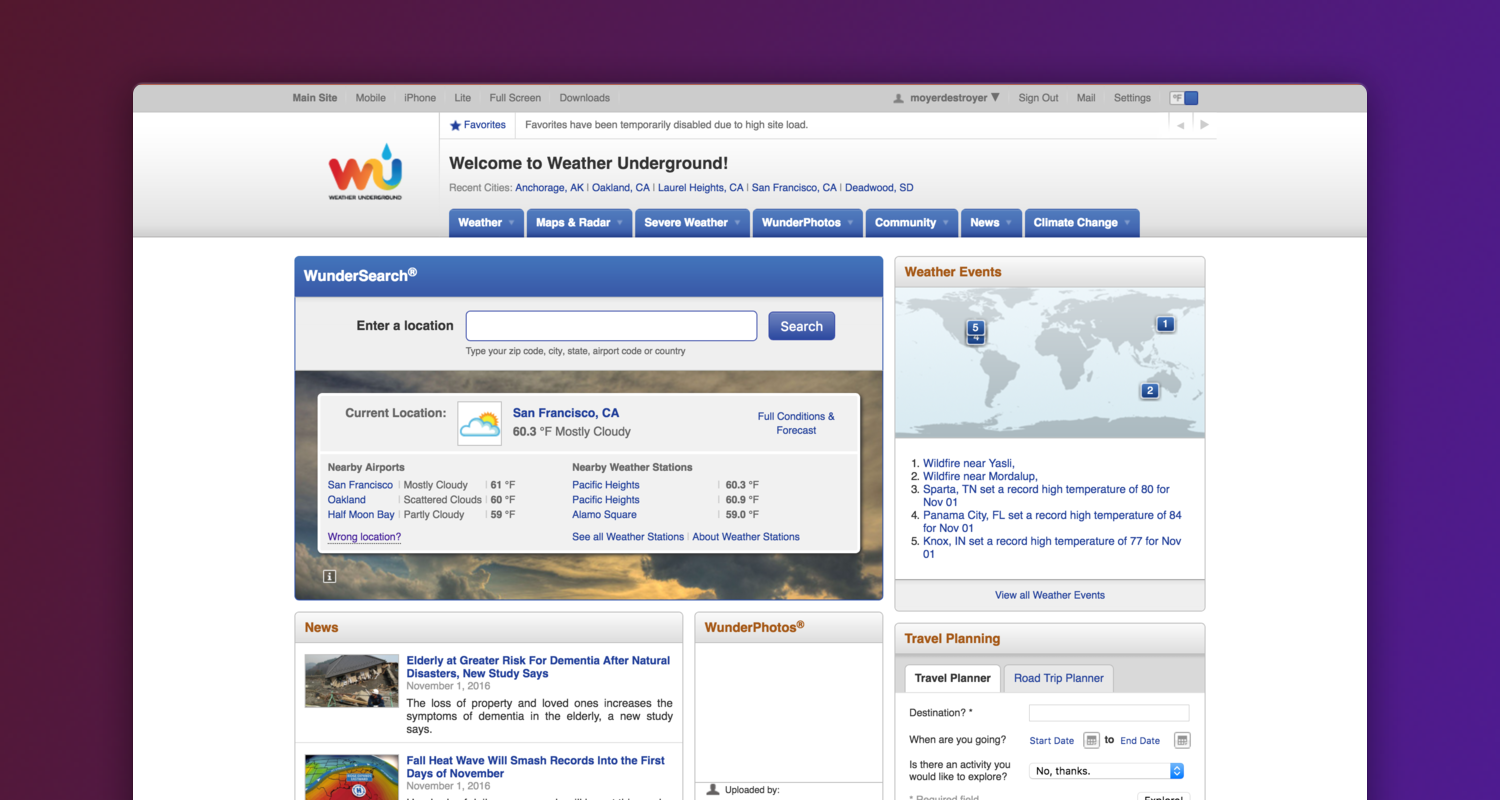 Logo
This included a new logo, one that paid homage to the rainbow roots of the company's old logo, and also gave a nod to data collection, and its community of weather station owners. In user interviews, people felt that the old logo looked too old and not trustworthy, that it wasn't good data cause the logo wasn't updated. This old logo also was a problem on smaller devices, it did not scale well in the mobile world. The new logo tested well with users, many felt it looked fresh and new, that our data and information would be up to the minute and trustworthy. This logo also allowed for many versions that could be scaled very small to very large, it was much more versatile.
Additional Visuals
It also included a new typeface, one that would improve data legibility, and a palette robust enough to handle myriad data sets, and yet distinctive enough to work for color-blind users. In order to prime the audience for the new brand, I created a series of images that updated daily, each showing a story of the old logo falling apart and being replaced with the new one. It was incredibly successful in that it eased the shock of a new brand, engaged users, and built excitement for the new brand.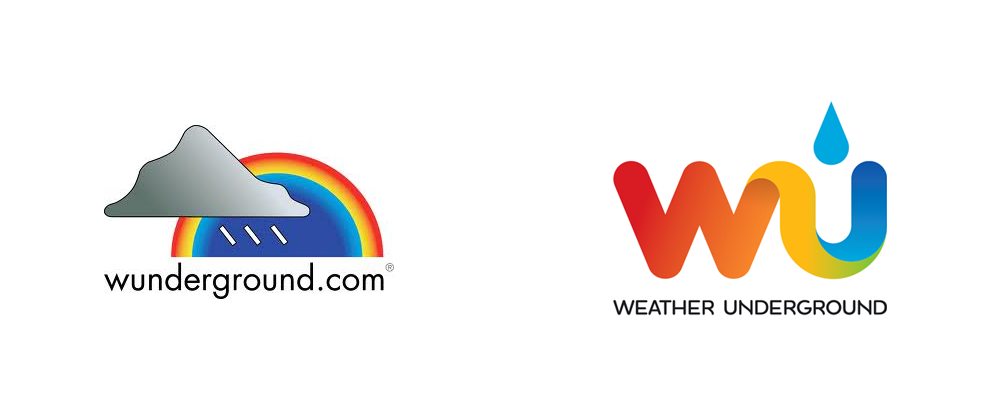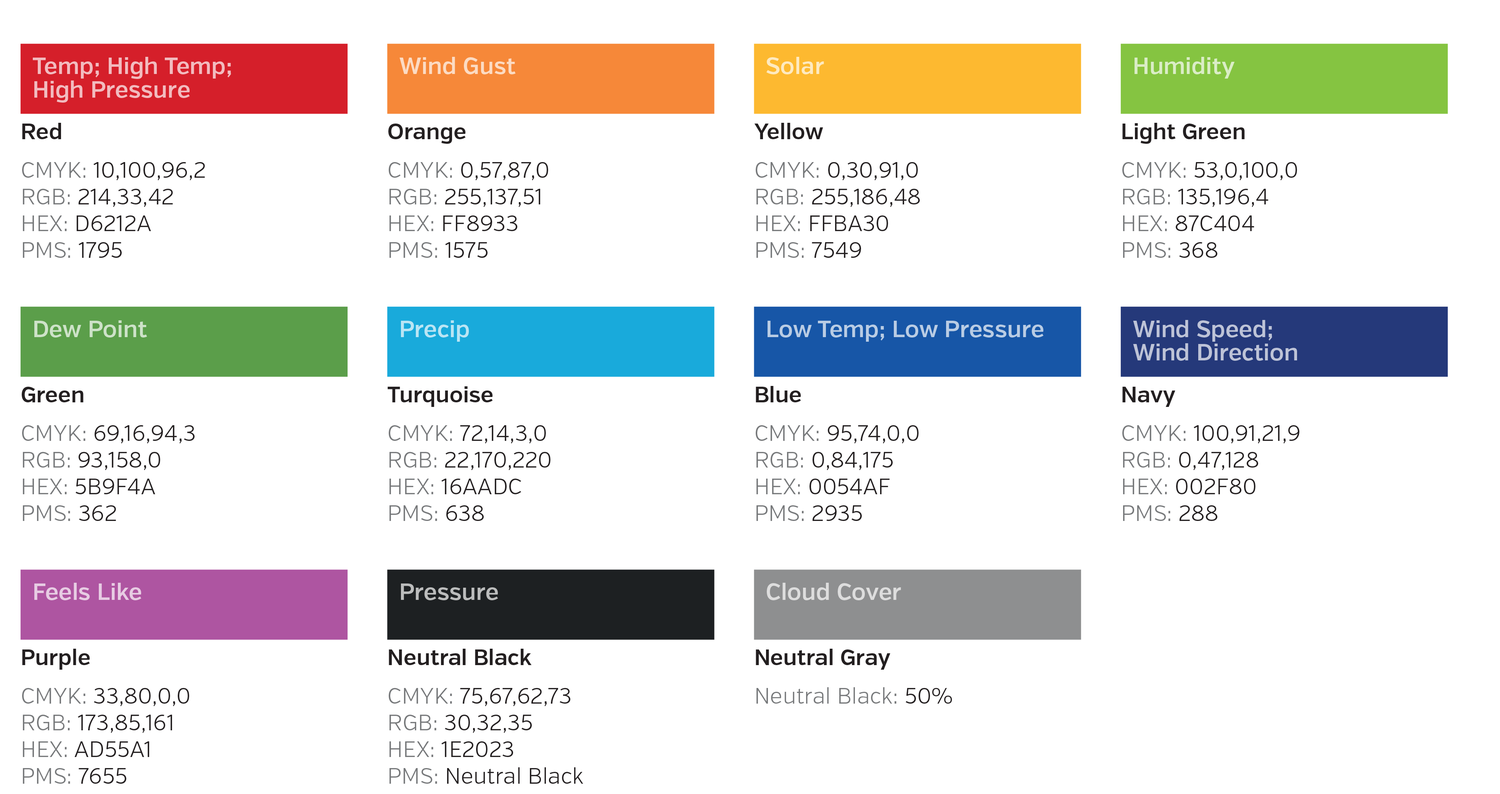 Products
Along with the brand redesign the team made an effort to update Weather Underground's products to reflect the new brand. Because the rebrand was more than just a visual update, this required a complete overhaul of how WU presents information, both to existing and new audiences. This included product design for some of WU's highest trafficked products and a robust style guide to inform the design of all WU products. One large part of the product redesign was moving towards responsive design. Before we had a light mobile page, and the main website would not load well on phones. This involved creating a 12 column grid system tat was elastic. My team was responsible with coming up with standard web styles so that we could quickly convert many pages to the new brand look.
We also rebranded all of our apps to create a consistent look no matter what the user was using to view our weather data. As a design team we all worked together to create a consistent brand across these products. These products that were rebranded and created under the new brand guides were:
New Brand Outcome
Since rebranding, WU has seen an increase of users and that 50% of new users would recommend our products to other people. The consistency of design and brand has built a trust for the company and it's data.